I will be attending the Virginia Festival of the Book in Charlottesville, VA this Saturday at the Omni Hotel, which is on Charlottesville's Downtown Mall. I'll be exhibiting, selling and signing THE LIST. It's a big day for me, because visiting Charlottesville is like going home, because for 4-years at the University of Virginia, it was home. (And don't anyone start on me about not being in the March tourney.) So this week's list is things I'm looking forward to on Saturday.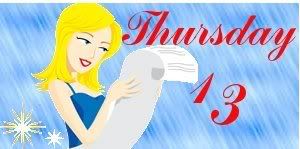 13 Things I Look Forward to On Saturday:
1.
The Booksigning
Okay, that's obvious. I hope to network with lots of people, and sell some books!
2.
Lunch at Bodo's Bagels:
Some of my online friends have already heard me wax poetic about these bagels. They truly are all that. My fave? Onion bagel with cream cheese. Yum.
3.
Seeing the Rotunda:
No trip to Charlottesville for a UVA alum is complete without paying respects to the Grounds (which is what we call the campus) and the Lawn with the fabulous Jefferson-designed Rotunda. Photo op!
4.
Feeling Like I'm Home:
Aside from my parents' house, this is where I always feel like I belong.
5.
Having a "Tweet Up":
I've connected with quite a few authors and those in the publishing world through Twitter. (follow me
@carmenshirkey
) Several will also be in attendance, and I'll get to put a face with each Twitterer!
6.
Spring in Charlottesville:
Blooming dogwoods, and lots of sneezing allergies. :)
7.
Twittering My Day:
Speaking of Twitter, I plan to post updates on the festival throughout the day. Barring Internet complications.
8.
Possibly Seeing Brad Meltzer:
He's one of the author guests at this year's festival. I don't have tickets to his luncheon, but I keep hoping that maybe he'll come check out his competition . . . I mean the other authors. ;)
9.
The Downtown Mall:
I had to do a school project at UVA when I was in architecture school (yes, me. I changed majors after 1st semester thanks to a sexist professor, my one regret) where we studied the architecture of the Downtown Mall. It's really beautiful, and houses a lot of unique shops and galleries.
10.
Dinner on the Downtown Mall:
The restaurants change all the time. So I don't know which one we'll visit, but it will depend on what we're hungry for then.
11.
Driving with Jim
I know it's corney, but I just like spending time with my S.O. A one-hour drive means dedicated time. Even if we don't talk.
12.
Networking:
I hope that I can make contact with the right people. It's all about who you know.
13.
Success!:
I just know that this is the right time for this book.
Home of the new Thursday 13