Before I get into this week's guest, I just wanted to tell the Thursday 13 people that THE LIST won a 2009 Indie Book Award in the Romance category. Yay!
And with that out of the way, I want to introduce you to another author, my Twitter friend Denise Robins (@dkrobbins). You can find her at
www.deniserobbins.com
and
http://deniserobbins.blogspot.com
(You can head to her blog this weekend, as I am her Book of the Week Challenge author!)
She wrote a book called IT HAPPENS IN THREES, which I just finished reading. Man, can this chick write a love scene or what!
Here's a tease for the book:
Everyone knows bad things happen in threes, especially Ruby Goodman.
1-Fired from her job
2-Her ex-fiancé turned stalker
3? . . . Ruby is not sticking around to find out
Fleeing Florida to escape her fate, she runs headlong into. . .Michael Augustson, secret agent, and. . . straight into danger.
Once burned, twice learned, does Ruby dare trust again?
And now, here's my interview with her.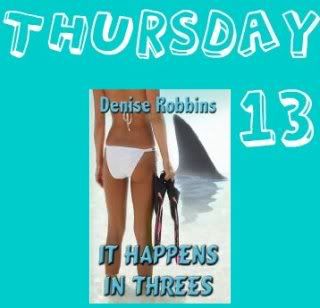 1. What motivated you to write this book? Your first book.
A software engineering manager by day, I developed a passion for romantic-suspense novels when I was out of work five years ago. I began writing IT HAPPENS IN THREES as a way to combine my love of writing with a lifelong interest in true crime and mysteries. In this debut novel, I used my own knowledge of computers and software to take readers on a roller coaster ride of suspense and intrigue
2. Are the experiences in the novel based on someone you know, or events in your life?
A little bit of both. The story starts in New Hampshire where I live now and then moves to Florida and Hawaii, both places I have lived or visited. The underwater descriptions are places I have been on various scuba adventures. Of course, the computer technology aspect of the story is from my software engineering background. To top that off, I have a longtime friend who is a spook.
3. Do you have a specific writing style?
My writing style would be considered "by the seat of my pants." I have never been a person who can outline or plot. I do try and have gotten better so that now once I start a story, I plot several events or chapters ahead at a time.
4. If you had to choose, which writer would you consider a mentor?
That is actually a tough question. A voracious reader, I enjoy several authors that as soon as a new book comes out I have to get it, and I try to get everything they have ever written. The author that influenced me to actually start writing would be Linda Howard after reading her book ALL THE QUEEN'S MEN.
5. What are your current projects?
My second book KILLER BUNNY HILL is scheduled to be released in July of this year by L&L Dreamspell.
I am currently working on book number four with a working title of NEVER TEMPT DANGER. This book delves into two characters who both work for a governmental spy agency, but the heroine finds herself in a pickle when her knowledge and skill gets her would-be fiancé killed and then the killers go after her. The technology focus in this story revolves around the tiny transformer robots the government wants to use in the military.
6. What makes your stories unique?
I believe the "Denise" aspect, the part that makes the stories uniquely mine, are the fact that each of my stories involves computer technology. In IT HAPPENS IN THREES, one of the characters uses software to launder money from large corporations under the guise of helping them with their network security. The heroine writes a piece of software called a trojan to get in and follow the thief's software and then make it appear that the funds are transferred – when in fact they are not.
In KILLER BUNNY HILL, the technology revolves around nanotechnology and the creation of manmade real diamonds for use as computer chips and laser weapons.
7. How do you come up with your story ideas and your characters?
That is both the easy and the hard part. With my current work-in-progress, the beginning of the story popped into my head as I was crawling into bed one night. With IT HAPPENS IN THREES, I sat at my computer and the beginning just flowed out. I had no clue where it would take me.
If the story idea does not hit me in the head and say, "hey, write me," I approach it a little more methodically. I sit down at a local restaurant with a notebook and pen, and I listen and observe. After a while, I start to write the name of my hero and/or heroine and what I know of them such as what they may look like, where they are from, maybe their fears, and then it hits me as to what jobs the characters have.
I tend to come up with the characters before I come up with the storyline. Once I know my characters, I can come up with a story.
8. When do you find you are the most creative or write the most?
I am my most creative and most productive first thing in the morning and usually when I am not at home. For whatever reason, when I'm at home I tend to get interrupted or sidetracked easily with everyday chores. If I go out for breakfast, I can tune out the world and write like a mad woman.
9. Who came up with the book cover for IT HAPPENS IN THREES? Why?
The main idea was mine and then my publisher tweaked it. Because the majority of the story takes place in Florida and Hawaii, there is a lot of ocean time and the heroine wears a bikini. The heroine's scuba fins are hot pink same as on the cover. The original idea had three shark fins, but the publisher thought one large one was more menacing and I agree.
The most important piece on the book cover and any of my book covers is that you don't see the character's face. It should be up to the reader's imagination to draw that picture in his or her own mind. Even on my website, you don't know what the hero or heroine look like.
10. Were you the model for the book cover?
HA! I get asked this all the time. . .and I shall never tell
11. How to you get inspired to write your romantic scenes?
I have to say, this question made me laugh. Who needs inspiration to write a love scene? For me, the love scene just seems to flow into the story at the right time and does not require any "prep" work. Although, after I've written the love scene, a good "review" is always fun. :)

12. Who is your favorite character in the book?
My favorite character is Jake. For some reason, Jake, this tall, broad shouldered "Neanderthal" of a Southern speaking guy just drives me crazy. At one point, I almost made him the hero. He is so lovable and pushy that Jake actually makes appearances in all my novels and gets to be the hero in CONNECT THE DOTS, my third novel. My editor and I actually fight over him. Of course, I created him, so he's mine.
13. What is your guilty pleasure?
Hm. There are probably too many to name. One guilty pleasure is my caffeine addiction to Mountain Dew. What can I say? If there is a can of Mountain Dew in the house, I drink that before anything else, including for breakfast. My other extreme guilty pleasure is books. OMG! I could be dirt poor, but if I see a book I want to read, especially an old one that is no longer in print, you bet I will scrape through my change jar and car floorboards to get the money to buy that book. And yes, I have done that.
Home of the new Thursday 13