Welcome! Come on in, take a seat. Mingle. Grab some virtual snacks. We have cupcakes with blue icing, cookies, and Chex mix! Scroll down for the "Buy" button and more info.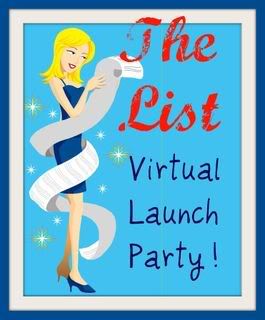 I'm so glad you stopped by, and invite you to buy a signed copy of my new book,
The List
. It's a story about Candace Saunders, who is a 30-something who thinks that by creating a list of things she wants in a boyfriend-then-husband, she can keep herself from making bad choices and getting hurt. She meets two men - one who matches her list, and one that is the opposite of everything she thinks she wants. Who should she chose? It's a bit of a brain-candy romance book. Some even call it a romantic comedy book. If you have a moment, check out the book trailer below. If not, skip to the end!
For this weekend only, I'm offering a special deal on my book. It sells on Amazon for $15.99 + shipping (unless you order over $25, then shipping is free.) You can buy it there anytime by following the links at the top of this page. However, you can buy a SIGNED COPY for the special friends and family rate of $11 + shipping. That's a huge savings! And it's all because you guys rock!
In addition to that special rate, I'm having a contest. You can win this lovely necklace crafted by my friend Peggy Li, who has had her jewelry featured on
Buffy the Vampire Slayer
and other shows that aren't as cool as Buffy but still significant, like
CSI
, etc. ;) It retails for $65, and Peggy chose it for my launch because she thought it represented the romance in the book! All you have to do to win it is leave a comment and send your friends over this weekend - it's really that easy.
Here's how it works
.
1. Leave a comment on this site (where it says "reviewers raved about "The List") Make sure you leave a way for me to contact you, either with a Web site url, an email, something.
2. Then, send friends to this site. You can post a link on your Facebook page, tell your Twitter friends with a Tweet, steal the image above an post on your blog, or just stop people on the street. :) Tell them to follow step 1 and leave a comment, but to also tell me in the comment who sent them. For example, if Monica sends Heather, Heather says "Monica sent me" in the comment.
3. I keep track of who tells people about the book, and how many comments add up with their name as the referral.
4. The person with the most referrals wins the necklace. Second place wins a $50 hotel booking card.
It's almost effortless, really.
No purchase is necessary for the contest, but I really think you'll enjoy
The List
. Just select how many books you'd like (they make good gifts), how you'd like me to sign your book, and then click "Buy Now." You can pay with any major credit card, or your PayPal account.
ORDER FORM REMOVED, PROMOTION ENDED
Here's my ask of all of you. If you buy a copy of the book, I would so appreciate it if you would
go to Amazon
and write a review for me. Honest reviews are perfectly fine!